MSRP Contact Us

See Important Disclosures Here
Specifications
VIN JN1FV7AP6KM761033
Exterior Graphite Shadow
Engine 3.0L 6 cyl
Interior N/A
Location INFINITI of Thousand Oaks
Model Code 90919
MSRP Contact Us
Stock Number 27693
Transmission 7-Speed A/T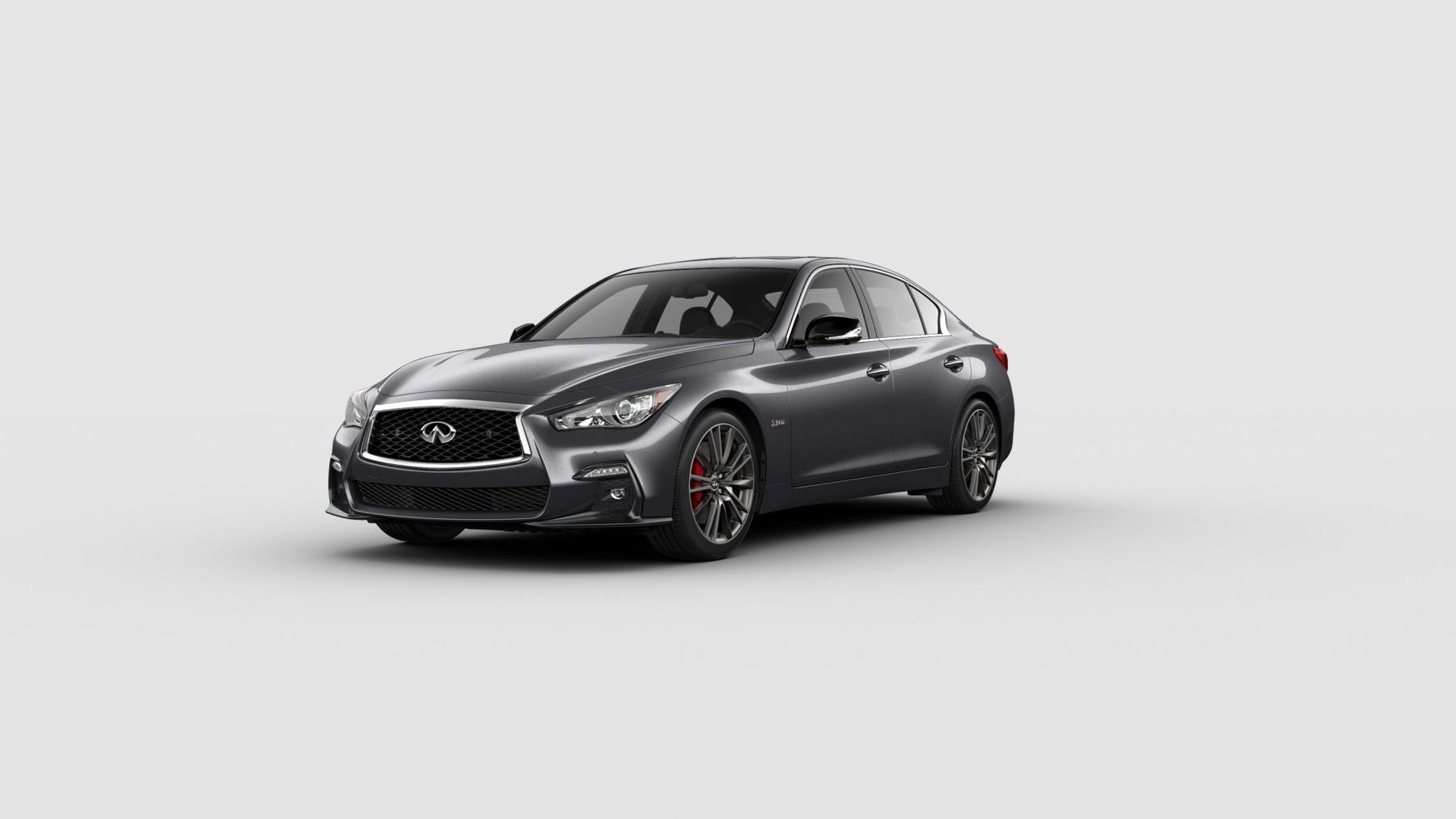 MSRP $36,545

See Important Disclosures Here
Specifications
VIN JN1CV7APXKM110085
Exterior Pure White
Engine 208-hp 2.0-liter I4 turbo
Interior Graphite
Location INFINITI of Thousand Oaks
Model Code 90119
MSRP $36,545
Stock Number 27485
Transmission 7-Speed A/T
MSRP $39,295

See Important Disclosures Here
Specifications
VIN JN1EV7AP2KM516967
Exterior Liquid Platinum
Engine 300-hp 3.0-liter V6 twin-turbo
Interior Graphite
Location INFINITI of Thousand Oaks
Model Code 90519
MSRP $39,295
Stock Number 27474
Transmission 7-Speed A/T
Specifications
VIN JN1EV7AP9KM517212
Exterior Graphite Shadow
Engine 300-hp 3.0-liter V6 twin-turbo
Interior Stone
Location INFINITI of Thousand Oaks
Model Code 90519
MSRP $39,520
Stock Number 27539
Transmission 7-Speed A/T
Specifications
VIN JN1EV7AP7KM519511
Exterior Black Obsidian
Engine 300-hp 3.0-liter V6 twin-turbo
Interior Graphite
Location INFINITI of Thousand Oaks
Model Code 90519
MSRP $39,520
Stock Number 27643
Transmission 7-Speed A/T
Specifications
VIN JN1EV7APXKM519213
Exterior Graphite Shadow
Engine 300-hp 3.0-liter V6 twin-turbo
Interior Graphite
Location INFINITI of Thousand Oaks
Model Code 90519
MSRP $39,520
Stock Number 27649
Transmission 7-Speed A/T
MSRP $39,795

See Important Disclosures Here
Specifications
VIN JN1EV7AP9KM517050
Exterior Mocha Almond
Engine 300-hp 3.0-liter V6 twin-turbo
Interior Wheat
Location INFINITI of Thousand Oaks
Model Code 90519
MSRP $39,795
Stock Number 27495
Transmission 7-Speed A/T
Specifications
VIN JN1EV7AP4KM512323
Exterior Liquid Platinum
Engine 300-hp 3.0-liter V6 twin-turbo
Interior Graphite
Location INFINITI of Thousand Oaks
Model Code 90519
MSRP $40,005
Stock Number 27284
Transmission 7-Speed A/T
Specifications
VIN JN1EV7AP2KM514703
Exterior Graphite Shadow
Engine 300-hp 3.0-liter V6 twin-turbo
Interior Graphite
Location INFINITI of Thousand Oaks
Model Code 90519
MSRP $40,005
Stock Number 27426
Transmission 7-Speed A/T
Specifications
VIN JN1EV7AP8KM515001
Exterior Liquid Platinum
Engine 300-hp 3.0-liter V6 twin-turbo
Interior Stone
Location INFINITI of Thousand Oaks
Model Code 90519
MSRP $40,005
Stock Number 27443
Transmission 7-Speed A/T
Specifications
VIN JN1EV7APXKM515176
Exterior Pure White
Engine 300-hp 3.0-liter V6 twin-turbo
Interior Graphite
Location INFINITI of Thousand Oaks
Model Code 90519
MSRP $40,005
Stock Number 27455
Transmission 7-Speed A/T
Specifications
VIN JN1EV7AP0KM517499
Exterior Black Obsidian
Engine 300-hp 3.0-liter V6 twin-turbo
Interior Wheat
Location INFINITI of Thousand Oaks
Model Code 90519
MSRP $40,005
Stock Number 27581
Transmission 7-Speed A/T
Specifications
VIN JN1EV7AP2KM516693
Exterior Majestic White
Engine 300-hp 3.0-liter V6 twin-turbo
Interior Graphite
Location INFINITI of Thousand Oaks
Model Code 90519
MSRP $40,020
Stock Number 27559
Transmission 7-Speed A/T
Specifications
VIN JN1EV7AP2KM518685
Exterior Majestic White
Engine 300-hp 3.0-liter V6 twin-turbo
Interior Wheat
Location INFINITI of Thousand Oaks
Model Code 90519
MSRP $40,020
Stock Number 27645
Transmission 7-Speed A/T
Specifications
VIN JN1EV7AP0KM518748
Exterior Majestic White
Engine 300-hp 3.0-liter V6 twin-turbo
Interior Graphite
Location INFINITI of Thousand Oaks
Model Code 90519
MSRP $40,020
Stock Number 27658
Transmission 7-Speed A/T
Specifications
VIN JN1EV7APXKM512729
Exterior Black Obsidian
Engine 300-hp 3.0-liter V6 twin-turbo
Interior Graphite
Location INFINITI of Thousand Oaks
Model Code 90519
MSRP $40,230
Stock Number 27281
Transmission 7-Speed A/T
Specifications
VIN JN1EV7AP5KM518034
Exterior Graphite Shadow
Engine 300-hp 3.0-liter V6 twin-turbo
Interior Graphite
Location INFINITI of Thousand Oaks
Model Code 90519
MSRP $40,230
Stock Number 27538
Transmission 7-Speed A/T
Specifications
VIN JN1EV7AP3KM518033
Exterior Black Obsidian
Engine 300-hp 3.0-liter V6 twin-turbo
Interior Graphite
Location INFINITI of Thousand Oaks
Model Code 90519
MSRP $40,230
Stock Number 27546
Transmission 7-Speed A/T
Specifications
VIN JN1EV7AP1KM518032
Exterior Graphite Shadow
Engine 300-hp 3.0-liter V6 twin-turbo
Interior Graphite
Location INFINITI of Thousand Oaks
Model Code 90519
MSRP $40,230
Stock Number 27550
Transmission 7-Speed A/T
Specifications
VIN JN1EV7AP8KM518058
Exterior Black Obsidian
Engine 300-hp 3.0-liter V6 twin-turbo
Interior Graphite
Location INFINITI of Thousand Oaks
Model Code 90519
MSRP $40,230
Stock Number 27542
Transmission 7-Speed A/T
Specifications
VIN JN1EV7AP5KM518647
Exterior Liquid Platinum
Engine 300-hp 3.0-liter V6 twin-turbo
Interior Graphite
Location INFINITI of Thousand Oaks
Model Code 90519
MSRP $40,230
Stock Number 27604
Transmission 7-Speed A/T
Specifications
VIN JN1EV7AP0KM518247
Exterior Pure White
Engine 300-hp 3.0-liter V6 twin-turbo
Interior Graphite
Location INFINITI of Thousand Oaks
Model Code 90519
MSRP $40,230
Stock Number 27617
Transmission 7-Speed A/T
Specifications
VIN JN1EV7AP3KM518131
Exterior Black Obsidian
Engine 300-hp 3.0-liter V6 twin-turbo
Interior Graphite
Location INFINITI of Thousand Oaks
Model Code 90519
MSRP $40,230
Stock Number 27615
Transmission 7-Speed A/T
Specifications
VIN JN1EV7APXKM518577
Exterior Hagane Blue
Engine 300-hp 3.0-liter V6 twin-turbo
Interior Graphite
Location INFINITI of Thousand Oaks
Model Code 90519
MSRP $40,230
Stock Number 27616
Transmission 7-Speed A/T
Add vehicles to compare. You can compare up to 3 vehicles at a time.
Prices do not include additional fees and costs of closing, including government fees and taxes, any finance charges, any dealer documentation fees, any emissions testing fees or other fees. All prices, specifications and availability subject to change without notice. Contact dealer for most current information
The new INFINITI Q50, Thousand Oaks drivers, is the right fusion of utility and comfort. Available at INFINITI of Thousand Oaks, this IIHS award-winning vehicle is nicely packed with advanced safety features and state-of-the-art infotainment system. The new INFINITI Q50, Thousand Oaks drivers, is the perfect combination of performance, style and design. Its enthralling exterior and opulent interior are sure to bewitch you. Don't miss out on the new INFINITI Q50, available in the inventory at our Thousand Oaks dealership. So what are you waiting for? Visit our dealership and drive away the new INFINITI Q50 in Thousand Oaks today! You can also give us a call at 805-494-1200 before coming down to our new INFINITI Q50 dealership. The inventory at our Thousand Oaks retailer is one of the best in town. We look forward to seeing you soon!
Thousand Oaks NEW & USED INFINITI
INFINITI of Thousand Oaks is your one-stop shop for all things INFINITI. We have a huge inventory of new, used and certified preowned INFINITI vehicles for our customers to choose from. Be it any vehicle that you're looking for, we have it on our lot. However, if we don't, let us know your requirement and we'll find it for you. If you've any questions about any of the INFINITI vehicles on our lot, or their purchasing process, contact us on 805-494-1200 and we'll promptly respond. While you can browse our inventory online, we invite you to visit us in Thousand Oaks to check out our new, used and certified preowned INFINITI inventory live today!